How To Create A Free Website For Your Business - Full Walkthrough
It's really easy to create a free website, even when you know nothing about websites, the internet or technology.
Firstly, I assume you aren't planning to learn how to code and create your website from scratch. This wouldn't be sensible because it would take months for you to be at a stage where you could create what you want. Plus, doing it this way isn't just about the technical side of things, you also need to be pretty good at design to make it look amazing.
So, the simple answer to create a website that's free and looks amazing is to use a Website Builder. A Website Builder is an online tool that you use to create a website yourself.
It's a pretty straightforward process. Usually, you…
Choose a template as the basis of your website
Add your content such as text and images
Choose a domain name (the bit that starts with www.)
Then you launch your website live on the internet and you can start getting visitors.
This, blogpost is all about free websites, so let's get onto that…
Most Website Builders have a free option.
Some, are free for a limited amount of time, meaning you have to pay at some point, if you want to keep your website. This is usually 1-3 months after you launch. But, some allow you to keep your website for as long as you want without ever paying. So, why do Website Builders offer a free website option?
Firstly, they usually give you a free domain name. For example, YourSimpleSite's free websites include a domain name in this format: www.[yourchoiceofname].yoursps.com.
This is called a sub-domain and it doesn't cost anything to register it.
If you wanted to use www.[yourchoiceofname].com (without the '.yoursps' bit) you wouldn't be able to have a free website, because you'd have to pay to register the .com domain name.
The next reason is that it's a risk-free way for you to try the Website Builder. Then, after seeing how good the Website Builder and the website are, you can choose to upgrade to a Premium package and start paying.
Another reason for Website Builders having a free option is that it's a great way for them to showcase their work to others. The more traffic the free website gets, the more likely other people will see it. Some of them will possibly need a website and it will lead to more users for the Website Builder.
So, this means that every (I haven't found one that doesn't) Website Builder will place a small advert on their free websites. This will state something like…
'This website was created with X. Click here to create yours'.
Here's an example of YourSimpleSite's ad that is featured on their free websites. It's inconspicuous and people only see it if they scroll right to the bottom of the website.
Just so you're aware, some Website Builders will put a larger ad or a more prominent ad on their free websites. You really don't want someone else's advert to be the first thing people see when they visit your website.
So, that's the 3 main reasons that Website Builders have a free website option:
You'll get a sub-domain name
You get to try before you buy
You'll have a small ad displayed.
Now, let's get on to how you actually create a website for free
There are quite a lot of Website Builders to choose from. A quick Google search will give you plenty of options that you can take a look at.
But, to give you an idea of exactly how to do it, I'm going to show you how to create a free website with YourSimpleSite's Website Builder.
And, just so you know, YourSimpleSite's free websites are free forever. There's no limited time-period.
We've created a video version of the walkthrough below. [Click here] if you'd prefer to watch it.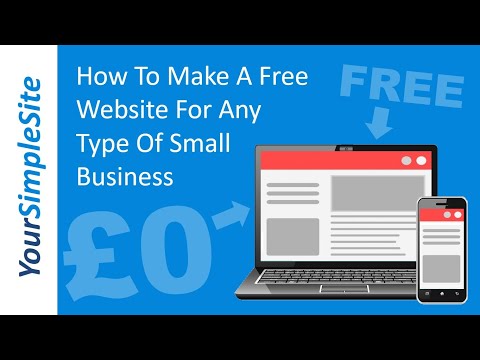 Otherwise, please read on…
We're going to walk through the whole process, step-by-step, to create this website which is for a Handyman business. But, don't worry, it only takes a few minutes and it's really easy.
Go to www.yoursimplesite.co.uk to create your website…
The first thing you do is choose the type of website you want. For example, if I have a Window Cleaning business, I'd choose the Cleaning Services category. If I'm a hairdresser, choose the Health & Beauty category. But, as I'm a Handyman, I'll choose 'Home & Garden'.
This takes me to the template selection screen.
If you're unsure which category to choose, you can always switch between categories using this dropdown menu or select 'All' the see every template that's available.
Scroll through the templates to choose the one you want. Use the blue labels to help you. Here's the Handyman template.
You click on 'View Full Size' button to see how it will look as a website live on the internet.
This will take you to a preview of the template. You can interact with it as if it was a live website on the internet.
You can easily change anything on the template later if you want. Click this button to go back to the template selector.
If you struggle to find a template for your business, there's this really neat feature that enable you to contact YourSimpleSite and get a template created for your business type for free.
You can also click here to start with a completely blank page, if you want and create your own website from scratch.
But, I want to use this template, so I'll click 'Use this one'.
This will take you to a simple online form where you add your content to your website.
First, you add your logo, if you have one, or enter your business name.
Next, you add a sentence about your business and where you're based. This is really important because it will tell people, very clearly, as soon as they visit your website who you are and what you do. Chances are, if they live in that area and they're looking for a handyman service, they'll be interested and keep reading.
Then, you enter some About us text. This can include information like, your history, when you were founded and information about your staff etc. You don't have to write too much here if you're struggling to think of information to include. You can login later and add more content and make changes. I have some text that I've taken from my Yell.com listing so I'll simply paste that in. You could also use text from places like your brochures or Facebook business page, if you have one.
Next, you add information about your services. Basically, this is all about the things you sell. Again, you can write as much as you want, or just keep it short and add more later. I've taken my services text from my brochure, so I'll paste that information in here.
Finally, I'll enter my phone number and street address so people can get in touch with me…
That's it, I've finished adding my content.
If you want to add more content or make other changes to the template, you can click the link highlighted below. You can add things like; image galleries, video, maps, links to social media and loads of other features. Plus, you can easily change your background image, your font and colour schemes.
But, for now, I want to get my website live and then come back later to make any changes. So, I'll click 'Show Full Page Preview'.
This will show me the template I chose with the content I added into the form populated into my website.
You'll notice there's a contact form on the website. This will send emails to the address you enter later when you create your account.
Once you've reviewed your website, click on this button to go back to the form.
Make any changes you want and, when you're happy, click 'Next Step'.
In the next step, you choose your domain name and, most importantly, select a free website. You'll see that the top option is 'I want a free website'. Then, all I do is enter the name I want. I suggest you use your business name. My business name is A1 Handyman so, I'll enter that.
Then I'll click 'Check availability'. I can see this name is available and it'll be www.a1handyman.yoursps.com. I can also see the cost is FREE.
If your chosen name isn't available, try a few options. You can add the place you're based. For example; www.a1handymanleeds.yoursps.com or your something else related to your business. For example; www.a1handymanservices.yoursps.com.
Below the free domain name option, you'll see the Premium options. If you already own a domain name, you can connect that. Or you can register a new domain name for example, instead of www.a1handyman.yoursps.com, you can register www.a1handyman.com, www.a1handyman.co.uk or choose from loads of other domain options.
Once you've found an available free domain name, click 'Next step'.
In the next step, you'll create your account. Enter your email address and set a password so you can log back in later to make changes and manage your account.
Then click step and this will take you to the final step where you'll publish your website.
Click 'Publish now'…
In just a few seconds, your free forever website will be live on the internet and you can start receiving visitors. Click this link to check it out.
When you click the link, you'll be taken straight to your live website…
Your website is also mobile device optimised as standard so you will give all your visitors the best possible experience regardless of the device they're using.
I hope you found this video/blogpost useful. If you want more information on creating a website for your business, we've created this free, detailed guide:
7 Steps to Website Success
The Proven Blueprint For Creating a Successful Website For Any Type Of Small Business.
It walks you through everything you need to know and do to create a website….the right way! But, more importantly, it also tells you how to get loads of visitors so you can flood your business with leads, enquiries and customers.
Launch your website today
YourSimpleSite.co.uk is the quickest & easiest way to create a website.
We provide everything you need, including a domain name and hosting and you can update your website yourself. Anywhere, anytime!
Click onthe button below to get started for free...